Brown Line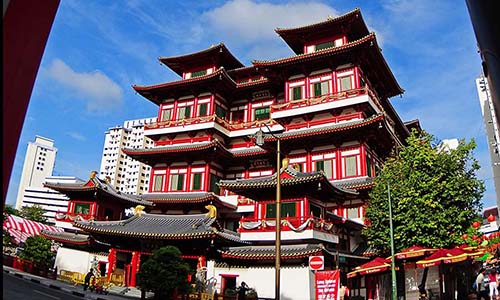 First Bus: 9.00am
Bus Freq: 30(am)-60 mins(pm)
Last Bus: 5.30pm

Overview
This line runs in the South direction of the city – inviting you to visit our classic heartland partially transformed into hipster hangouts and peek into the essence of Singapore's most organic make-up. On this line you'll also discover boutique hotels celebrated for their exotic ambience and creative interior.
Be enthralled by the magnificent Clifford Pier, a gateway to new life that simultaneously preserves the Pier's intrinsic hawker culture and honours its historical identity as the landing point of Singapore's forefathers. Then, tantalise your tastebuds at Lau Pa Sat, a food centre blending age-old traditions, striking architecture and scrumptious local delicacies like no other. If you can't get enough of Singapore's heart-stopping skyline, end off your night with a ride on the Flyer, the largest observation wheel in Asia.
Location: Singapore
Bus Operating Hours: 9.00am to 5.30pm
Duration: Free-and-easy; guests get to decide when to Hop On and Hop Off
Highlights
Clifford Pier – Built in 1933, A red oil lamp used to hang from the pier as a guide to seafarers.
Lau Pat Sat – The grande dame of markets in Singapore, it is a great spot to sample local cuisine as well as a selection of international dishes.
Tiong Bahru Heartlands – Singapore's oldest housing estate turned veteran hipster suburb.
Merlion Park – Sporting the head of a lion and the body of a fish, the Merlion welcomes tourists at this picture-worthy landmark located at One Fullerton.
The Esplanade – The country's premier arts centre with a boldly designed "prickly" rooftop, which has earned itself the affectionate moniker "the durian".
What to Expect
The key attractions, sights and sounds you're about to behold on this line are testament to the unique melting pot of cultures and inherent contradictions that makes Singapore one of the most livable cities in the world. If you want a tour that shows you what's both sparklingly savvy and exotic about this highly progressive island and offers a sneak peak into local life, hop onto this line for a charming, original experience.