1-Altitude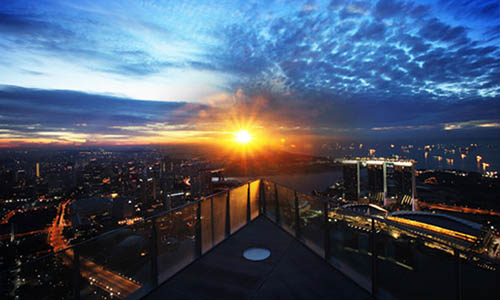 First Bus: 9.00am

Last Bus: 6.00pm

Price
1 Admission to 1-Altitude
With 1-way transfer
Adult: S$25
Child: S$25
Overview
1-Altitude, a pioneer of the multi-concept lifestyle destination in Singapore, occupies 16,000 square feet across three levels. Perched at 282 metres above sea level on the rooftop is 1-Altitude Gallery & Bar, the highest alfresco bar in the world. Boasting the spectacular 360-degree view of Singapore's vibrant cityscape, it is THE place for a mesmerising skyline, nightlife entertainment and gastronomic pleasures.
Location: Singapore
Address: 1 Raffles Place, Singapore 048616
Operating Hours: 8.30am – 5.30pm (Last admission 5pm)
Duration: Free and Easy; guests can leave when ready
Highlights
Admission ticket to 1-Altitude Singapore.
1-way transfer from the city.
Access to viewing gallery with 1 free drink (soft drinks or juices).
What to Expect
1 admission into 1-Altitude Upper Viewing Gallery, the highest viewing gallery in Singapore.