Madame Tussauds Singapore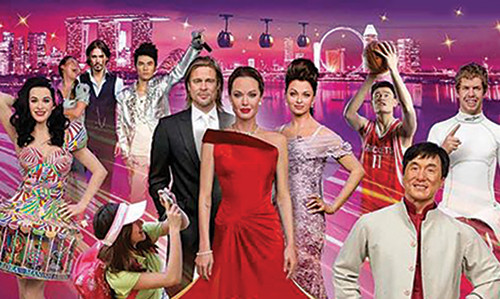 First Bus: 10.00am

Last Bus: 6.30pm

Price
1 Admission to Madame Tussauds
With 1-way transfer
Adult: S$39
Child: S$29
Overview
Bringing a uniquely Singapore blend of glitz and glamour, Madame Tussauds Singapore will take you to a party like no other! With 8 fully themed interactive zones and the new "Spirit of Singapore" boat ride, get ready to photograph and pose with your favourite A-Listers, sports stars and music legends. Then, walk through the Images of Singapore (IOS) LIVE, a journey that uncovers the nation's extraordinary history - from humble fishing village to 21st century powerhouse.
Location: Singapore
Address: Imbiah Lookout, Sentosa
Operating Hours: 10.00am – 7.30pm daily (Last admission 6pm)
Duration: Free and Easy; guests can leave when ready
Highlights
Admission ticket to Madame Tussauds Singapore.
1-way transfer from the city.
Images of Singapore LIVE: Discover the colourful story of Singapore, from humble fishing village to 21st century powerhouse.
Boat Ride: Jump aboard the 'Spirit of Singapore', the first ever Madame Tussauds boat ride, and travel through a fantasy tropical garden.
Music: Step onto the stage with your favourite musicians and perform with some of the greatest artists on the planet.
A List Party: Join the most exclusive party in town set on a roof terrace with impressive views over Singapore's skyline.
Sports: Test your sporting skill against your favourite local and international sporting heroes in a fast paced and interactive zone!
Film: Step into the world of international film as you enter the Madame Tussauds Film Lot. Join the stars on set to recreate some of the most iconic scenes in film history.
What to Expect
1 admission into Madame Tussauds Singapore, the go-to place for memorable photo opportunities with your favourite celebrities.