Safari Line 2 - Bird Park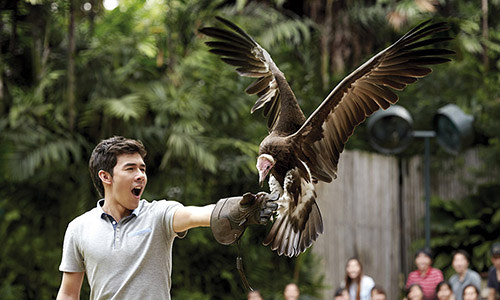 First Bus: 9.30am
Bus Freq: 120 mins
Last Bus: 5.00pm

Overview
Let your most colourful dreams take flight when you hop onto the Zoo-Safari Line 2. This line offers you direct non-stop transfers to the loftily impressive Jurong Bird Park – also home to the world's largest walk-in lory flight aviary. With 6 departures daily, you can plan your trip on your way there in the comfort of our vehicle.
Location: Singapore
Bus Operating Hours: 9.30am to 5.00pm
Duration: Free-and-easy
Highlights
Also part of Wildlife Reserves Group, Jurong Bird Park is the haven of every avian lover, charming locals and tourists alike since 1971. One of the most renowned bird sanctuaries with a collection of over 5,000 birds from 400 species, it houses a myriad of colourful star attractions, such as the stunning Pelican Cove, the world's largest walk-in Iory flight aviary as well as the impressive Penguin Coast. Kids will fall irrevocably in love with the Birdz of Play, a bird-themed water playground fitted with Flying Fox facilities.
Regular transfers between Safari Gate (@Suntec or @Flyer) and Bird Park.
Park Admission Ticket available for purchase at counter.
What to Expect
Enjoy close interactions with a kaleidoscope of specimens at feeding sessions and as you step into the world's largest Lory Flight aviary, you'll be plunged into the spectacular, high-flying world of our Lories and Lorikeets. This free and easy package is ideal for you if you want to experience an exciting wildlife adventure with transportation all arranged!