Blue Line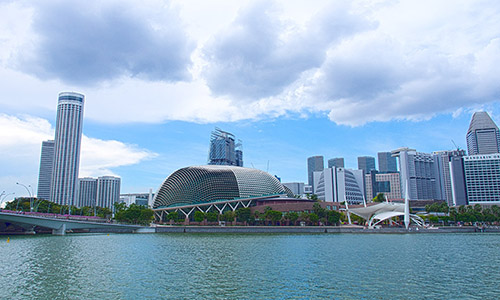 First Bus: 9.10am
Bus Freq: 30(am)-60(pm) mins
Last Bus: 5.40pm

Overview
There's always more to a city than meets the eye – particularly one that appears immaculately manicured and polished to a first-time visitor. So, just look beyond the sleek skyscrapers and even green corridors – you'll be able to capture the most authentic bits of this city when you're off the beaten track. Don't worry, the heart of the city is never to far away for you to turn back to. This line runs in the North direction of the city and functions as a secondary line to reach Kampong Glam and Little India.
Bet you didn't know that various parts in the vicinity of Middle Road used to play host to a thriving Jewish quarter as well as the the Hainanese or Hylam community which gave us wonderfully aromatic coffee. It is where Hainanese Chicken Rice was first beloved by the locals, made famous by an outlet that was right on Middle Road. Feast your eyes on the streets of Tiong Bahru, one of the first housing projects in Singapore, inspired by a minimalistic architectural style that marked a departure from the lavish Art Deco movement in favour of simple, functional lines. It's even possible to hunt down obscure food havens in the Jalan Besar neighbourhood, popular among locals for their hipster enclaves and traditional restaurants.
Location: Singapore
Bus Operating Hours: 9.10am to 5.40pm
Duration: Free-and-easy; guests get to decide when to Hop On and Hop Off
Highlights
National Museum – The nation's oldest museum, it prides itself on its National Treasures as well as thought-provoking, contemporary exhibitions.
Lavender Street – One of the most unchanged districts in Singapore, its main landmarks include the Jalan Besar Stadium and the prominent Tai Pei Buddhist Centre.
Sungei Road – Home to the infamous Thieves' Market, where the early days saw peddlers selling stolen goods. Today, it is absolute second hand merchandise haven.
Boat Quay – A historical riverside quay, this embankment features a myriad of dining, shopping, drinking and heritage-inspired hot spots.
Bugis Street – Prepare for some hard core street shopping mayhem!
Raffles Hotel – A colonial-style luxury hotel in Singapore, it is widely held as the birthplace of the renowned Singapore Sling, a fruity gin-based cocktail.
What to Expect
The recommended tour for explorers seeking something different from a regular cityscape, refreshing snapshots abound from the top deck of our fun HiPPO bus. For the intrepid wanderer, this line transports you to where you can go off the beaten track and unearth a whole new dimension to Singapore.