DUCK with Singapore 7

Save $7!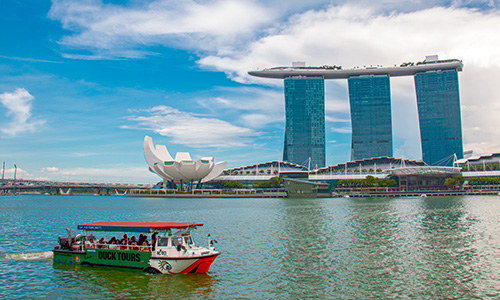 First Bus: 9.00am

Last Bus: 6.00pm

Prices
DUCK + Singapore 7 Sightseeing
1 Day
Adult: S$77
Child: S$57
Toddler: S$10
2 Days
Adult: S$83
Child: S$63
Toddler: S$10
3 Days
Adult: S$93
Child: S$73
Toddler: S$10
Overview
Ride the award-winning DUCK*, then tour the grounds with unlimited 1 (24-hr validity), 2 (48-hr validity) or 3-Day (72-hr validity Hop On Hop Off access to 7 lines under Singapore 7 Sightseeing for FREE!
*DUCKtours depart hourly from Suntec between 10am and 6pm. Reservations needed for all guided tours.
Location: Singapore
Duration: 60 mins on DUCK & 1, 2 or 3 Days unlimited rides on Singapore 7 Sightseeing
Highlights
Duck
The ORIGINAL wacky DUCK takes you on an exciting journey on land where you check out the historic Civic District before splashing down into the Singapore River and Marina Bay for a close-up view of Singapore's iconic architectural wonders. These are some of the key sights on this tour:
Fountain of Wealth - Listed by the Guinness Book of Records in 1998 as the largest fountain in the world, the inward motion of the water is a symbol of wealth and the essence of life.
Singapore Flyer - Feast your eyes on Singapore's magnificent cityscape from a height of 165m on the Asia's largest observation wheel.
Esplanade - Check out this architectural icon with its distinctive twin shells, which houses world-class performance spaces.
Civic District - See Cenotaph, Singapore's first major war memorial; the Singapore Cricket Club, one of Singapore's premier sports and social clubs, and more.
Singapore 7 Sightseeing
Take the Singapore 7 Sightseeing tour for a comprehensive view of the city, free-and-easy style. Expect to visit major attractions in Singapore on board 4 Hop On Hop Off Lines and 3 Feeder Lines:
Yellow Line – City line that takes you to leading points of interests in the city, such as Orchard Road, Singapore's prime shopping belt and Botanic Gardens, UNESCO designated World Heritage Site.
Red Line – Heritage line that allows you to visit the ethnic enclaves of Singapore, including Little India, Kampong Glam and Chinatown.
Brown Line – Explore Merlion Park and catch a glimpse of the classic heartlands partially transformed into hipster hotspots.
Blue Line – Go off the beaten track into Middle Road and Jalan Besar neighbourhood before indulging in street shopping mayhem at Bugis Street.
Green Line – Bask in ultimate luxury at Singapore's two world famous Integrated Resorts, the resplendent Marina Bay Sands and Resorts Word Sentosa, where more spellbinding attractions, such as SEA Aquarium, await.
Zoo-Safari Line 1 – Escape from the city into the wild! This line leads you to Wildlife Reserves Singapore's award-winning parks, Zoo, Night Safari and River Safari.
Zoo-Safari Line 2 – Let you dreams take flight at Jurong Bird Park, a sprawling sanctuary housing over 400 bird species from parrots to penguins.
What to Expect
Duration: 60 minutes on DUCK and 1 (valid for 24 hrs), 2 (valid for 48 hrs) or 3 (valid for 72 hrs) days of unlimited rides on Singapore 7 Sightseeing.
Attractions: DUCK, Civic District, Orchard Road, Botanic Gardens, Little India, Chinatown, Sentosa, Night Safari and more.