Singapore 7 with Flyer

Save up to $3!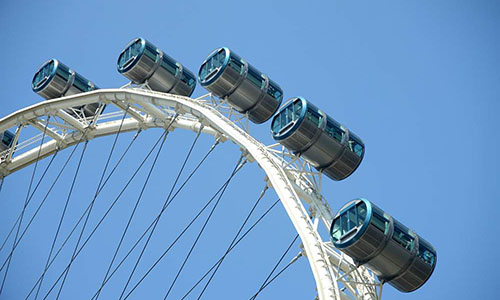 First Bus: 9.00am

Last Bus: 6.00pm

Prices
Flyer + Singapore 7 Sightseeing
1 Day
Adult: S$73
Child: S$53
2 Days
Adult: S$79
Child: S$59
3 Days
Adult: S$89
Child: S$69
Overview
Embark on a free-and-easy sightseeing adventure, where you tour the grounds with unlimited two-day (valid for 48 hrs) hop-on hop-off access to 4 lines (Yellow, Red, Brown & Blue) + 3 feeder lines (Green, Zoo-Safari Line 1 – Night Safari & River Safari and Zoo-Safari Line 2 – Bird Park) under Singapore 7. Then, nail that mesmerising skyline view on board the Flyer – Asia's largest observation wheel.
Location: Singapore
Duration: 30 minutes on Flyer and 1, 2 or 3 days of unlimited rides on Singapore 7 Sightseeing.
Highlights
Singapore 7 Sightseeing
Take the Singapore 7 Sightseeing tour for a comprehensive view of the city, free-and-easy style. Expect to visit major attractions in Singapore on board 4 Hop On Hop Off Lines and 3 Feeder Lines:
Yellow Line – City line that takes you to leading points of interests in the city, such as Orchard Road, Singapore's prime shopping belt and Botanic Gardens, UNESCO designated World Heritage Site.
Red Line – Heritage line that allows you to visit the ethnic enclaves of Singapore, including Little India, Kampong Glam and Chinatown.
Brown Line – Explore Merlion Park and catch a glimpse of the classic heartlands partially transformed into hipster hotspots.
Blue Line – Go off the beaten track into Middle Road and Jalan Besar neighbourhood before indulging in street shopping mayhem at Bugis Street.
Green Line – Bask in ultimate luxury at Singapore's two world famous Integrated Resorts, the resplendent Marina Bay Sands and Resorts Word Sentosa, where more spellbinding attractions, such as SEA Aquarium, await.
Zoo-Safari Line 1 – Escape from the city into the wild! This line leads you to Wildlife Reserves Singapore's award-winning parks, Zoo, Night Safari and River Safari.
Zoo-Safari Line 2 – Let you dreams take flight at Jurong Bird Park, a sprawling sanctuary housing over 400 bird species from parrots to penguins.
Flyer
Luxuriate in the capsule of Asia's largest observation wheel while a panoramic view of Marina Bay and other defining skyscrapers unravels.
What to Expect
Duration: 1 (valid for 24 hrs), 2 (valid for 48 hrs) or 3 (valid for 72 hrs) days of unlimited rides on Singapore 7 Sightseeing and 30 minutes on Flyer.
Attractions: Flyer, Orchard Road, Botanic Gardens, Little India, Chinatown, Sentosa, Night Safari and more.